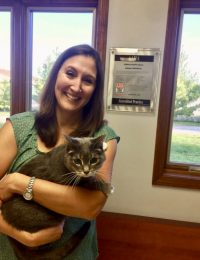 Dr. Slagel is a 2002 graduate of University Of Illinois' College of Veterinary Medicine. Born and raised in Central Illinois surrounded by various dogs and cats, and sometimes cows and other assorted wildlife, she always aspired to become a veterinarian. She completed her undergraduate work at Illinois State University as a Presidential Scholar.
She is a member of the American Veterinary Medical Association, American Animal Hospital Association, Illinois State Veterinary Medical Association, Tazewell County Veterinary Association, Mississippi Valley Veterinary Medical Association, and the American Association of Feline Practitioners.
Dr. Slagel and her husband, Sean, have a son, Colton, and a daughter, Elise. Four-legged children of the family include an adorable hound mix named Boomer, and an ornery gray tabby named Lewis.
She appreciates time to spend with her family, reading, and travel (especially to the beach) whenever possible. She has enjoyed volunteering with the Special Olympics for several decades and recently has been serving on the board of the Caterpillar Trail Public Water District.