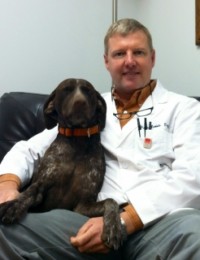 Dr. Nichols, a graduate of Kansas State University's College of Veterinary Medicine, moved back to Illinois in 1989 where he practiced along his father's side at Washington Veterinary Medical Clinic, established in 1962.
After draining as much wisdom as possible from his father, and with a strong yearning for a place of his own, Dr. Peter Nichols created Germantown Hills Animal Clinic from an old lumber mill in November of 1991. In 1996, when Dr. Warren Nichols retired, young Dr. Nichols assumed ownership of both clinics. Since then, Dr. Nichols has completed the Executive Veterinary Program 2000, a masters business program for veterinarians, at University of Illinois and constructed a new hospital in Germantown Hills in 2001. In 2008, he added a new addition on to the Washington office, and the existing building was renovated in 2009. Washington Veterinary Medical Clinic entered an elite category of veterinary hospitals in 2012 becoming an Accredited member of the American Animal Hospital Association (AAHA). Dr. Nichols served as veterinarian for the Peoria Zoo animals from 1999-2013. He continues to help Wildlife Prairie Park with educational animals and injured wildlife.
Dr. Nichols is an elected board member of the Illinois State Veterinary Medical Association for Region IV, a member of the American Veterinary Medical Association, American Animal Hospital Association, Tazewell County Veterinary Association, Mississippi Valley Veterinary Medical Association, and American Association of Feline Practitioners. He is also an active member of the Germantown Hills/Metamora Rotary Club.
Dr. Nichols and his wife, Kelli, have two sons and one daughter: Austin, Grant and Abby; a black and white short hair, Nike, and a German Shorthaired Pointer named Duke.