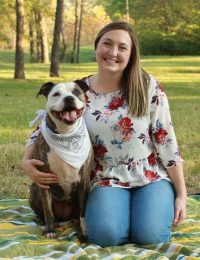 Dr. Lorentzen is a 2018 graduate of the University of Missouri College of Veterinary Medicine in Columbia, MO. She completed her undergraduate studies in Biology at Bradley University in Peoria in 2013. She was born and raised in Groveland, Illinois, surrounded by several dogs, cats, and a miniature horse, until moving to Missouri for veterinary school.
She is a member of the American Veterinary Medical Association, American Animal Hospital Association, and the Illinois State Veterinary Medical Association. She has also completed the Fear Free Certification Program in hopes of making visits less stressful for our fearful patients.
Dr. Knollenberg and her boyfriend, Scott, have a son, Collin, and a daughter, Adelyn. Their home is also filled with cats and dogs: Simba (Maine Coon), Nesta (black and white short hair), Nietzsche (buff orange long hair), Anika (American Pit Bull Terrier), Remmy(LabX), and Benji(Golden Retriever).