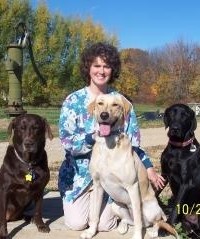 Veterinary Assistant
In October 2004, Laurie started working full time. She had been working here on a part-time basis for 10 years. Laurie can be seen at both Washington Veterinary Medical Clinic and Germantown Hills Animal Hospital depending on the day.
Laurie is a member of the American Animal Hospital Association.
Laurie has dogs: Charlie, a black lab, and Homer and Sunday, yellow labs; and cats named Monkey and Razy.