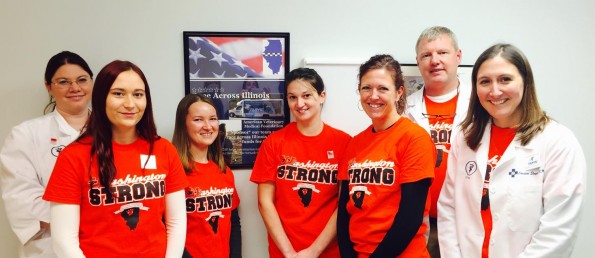 Veterinary care in Washington!
Washington Veterinary Medical Clinic is a full-service veterinary medical facility located in Washington, IL. The professional and courteous staff at Washington Veterinary Medical Clinic seek to provide the best possible medical, surgical, and dental care for our highly-valued patients. We are committed to promoting responsible pet ownership and providing preventative health care and health-related educational opportunities for our clients.
Washington Veterinary Medical Clinic strives to offer excellence in veterinary care to Washington, IL and surrounding areas. Please take a moment to contact us today and learn more about our veterinary practice, and how Washington Veterinary Medical Clinic can serve the needs of you and your cherished pet.
Washington Veterinary Medical Clinic was established in 1962 by Dr. Warren Nichols.  In 1996, Dr. Warren Nichols retired and Dr. Peter Nichols assumed ownership.  The facility was remodeled and doubled in size in 2009.
Contact us with your questions or schedule an appointment.
We are Accredited
Accreditation by the American Animal Hospital Association(AAHA) means we've passed a voluntary evaluation of more than 900 standards and that we are dedicated to upholding the highest standards of care for your pet. AAHA is the only organization that accredits veterinary hospitals in the U.S. and Canada.